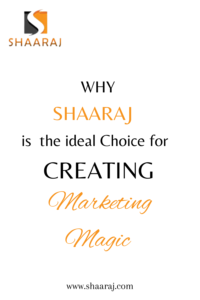 Managing an in-house creative team can be tedious and it also increases your overall marketing budget. Big brands began their journey by trusting their businesses with ad agencies and for 2022 the mantra has been replaced with digital marketing agency. 
We are a digital marketing agency in Lucknow that offers a wide range of digital services and helps in building your brand.
When it comes to the market standards, our services are far more affordable. The digital mavericks of our team can be accessed easily and are always ready to work at the client's site. Hiring a person for every job is a tiring and expensive method when you can simply contact and hire the best digital marketing company in Lucknow. We offer packages that fulfill all your digital needs and fits in your budget as well. So, hiring us will help you save time and money at the same time.
Expertise with efficiency
At SHAARAJ our team of professionals execute all the digital operations in the most effective way. We believe in producing results and generate leads that turn to business. We have a team of wordsmiths that makes sure content writing for your business is done with sheer professionalism and commitment. We have geeks that make sure you never go wrong with social media marketing and our SEO Experts make sure that when your business is searched on Google, it is visible.
The USP of our team is that we strive to be the best at our work, from creative team to technical experts everyone drives with the goal of building a brand. We access the strength and weakness of your competitors and build a digital strategy that helps your business outshine among others. Now if you are planning to grow your small business into a brand, let's do this together.